As our population ages, developing safe and activated communities where older adults can live independently is of critical importance. Many community dwelling older adults are frail or have serious medical conditions, yet relatively little of their time is spent in the company of health care professionals. Instead, older adults predominantly interact with neighbors and non-health professionals. The Criminal Justice Aging Project is a geriatrics training program based on the premise that non-health professionals can function as the eyes and ears of the medical profession to support older adults if they are given the geriatrics knowledge they need to identify those at-risk who are in need of health or social services.
For example, police can counsel family members of an older adult with dementia who wanders; bank tellers can help protect older adults from financial abuse; employees at the Department of Motor Vehicles can refer an older adult who fails a driving test to transportation services; financial planners can proactively counsel families of older adults with dementia to plan for later stages of the illness; probate judges can better understand how medical professionals determine that older adult has capacity to make some medical decisions and not others. Yet few of these non-health professionals have ever received training to help them recognize and address the specialized needs of older adults.

The Criminal Justice Aging Project meets this need by preparing and conducting tailored, focused, dynamic geriatrics trainings that help diverse professionals and volunteers understand and respond to the unique health-related needs of older adults.

In partnership with community organizations, the Criminal Justice Aging Project has developed and conducted trainings for hundreds of police officers, judges, attorneys, probation and parole officers, and jail- and prison-based clinicians worldwide. The project also develops resource guides for each sector. For an example, view a

reentry guide

for older adults released from the San Francisco county jail. To inquire about developing trainings for your community, please contact us via

email

.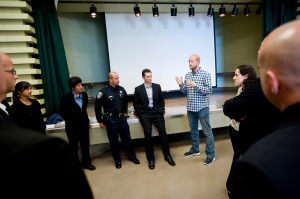 San Francisco Veterans Affairs Medical-Legal Partnership
The Medical-Legal Partnership between UCSF and UC Hastings College of the Law seeks to improve the health and well-being of low-income elderly veterans by integrating legal services into health care at the San Francisco VA Medical Center. The program provides comprehensive advance planning services to vulnerable older veterans and trains medical providers and volunteers to identify legal needs that affect patients' health and engage in patient advocacy alongside the legal team. The model will be evaluated and disseminated nationally in collaboration with the national medical-legal partnership network.
Portola & Excelsior Family Connections: Pedestrian Safety Project 
Tideswell at UCSF, in partnership with Family Connections, created 3 videos to demonstrate pedestrian safety methods. The video aims to improve neighborhood and crosswalk safety for children and their senior caretakers in San Francisco's Portola District.  Family Connections is working with the San Francisco Unified School District to share the video with their schools and families, and the video has been a wonderful tool for the community. 
Watch the video here.
(The video is also available in Spanish and Cantonese.)
To learn more about Family Connections, visit:
www.portolafc.org