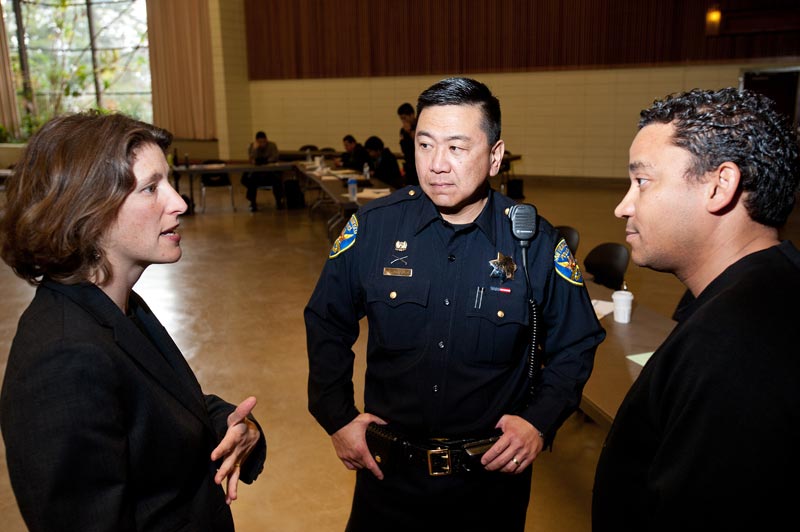 "As the U.S. population ages, police are increasingly serving as the eyes and ears of the health care profession," said UCSF geriatrician Brie Williams, MD, MS, a national expert in improving the care of older adults in the criminal justice system.
Officers may be called to assess possible elder abuse or neglect, or to respond to criminal activity involving an older adult with cognitive impairment, mental illness or substance abuse issues. "In situations like these, police serve as a primary link between older adults with acute health care needs, and clinicians who could potentially meet those needs," said Williams. Since 2011, Williams and her team have provided a two-hour training to members of the San Francisco Police Department as part of a weeklong crisis intervention training that the police department conducts for selected officers every quarter. Williams and her colleagues designed the geriatric training after leading one of the first-ever studies assessing challenges that police officers face in responding to elders with aging-related conditions.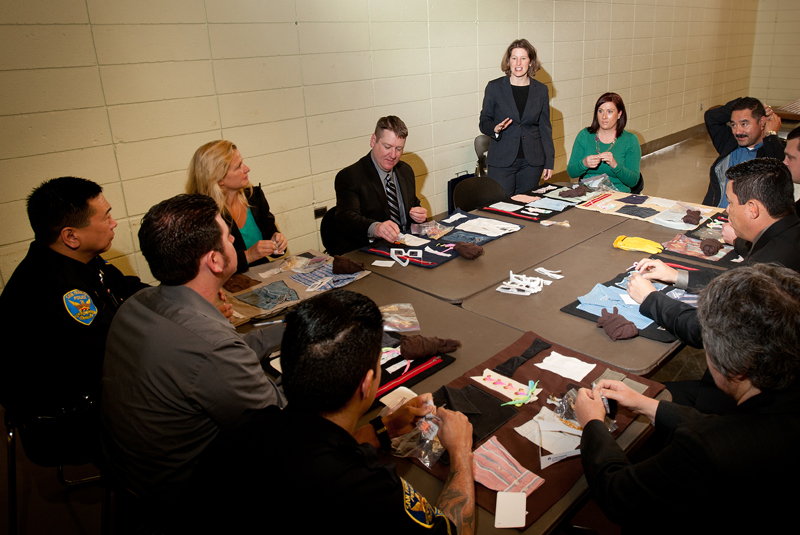 The training includes an overview of how both the general population and the criminal justice population are aging, and the increasing numbers of older victims, suspects and witnesses. Williams also describes aging-related health issues, such as how elders bruise more easily than younger people, and how alcohol metabolism changes with age – for example, a glass of wine may make an older adult dizzy while driving home. Williams also provides a handout with community resources that officers can use to refer elders to the help they need.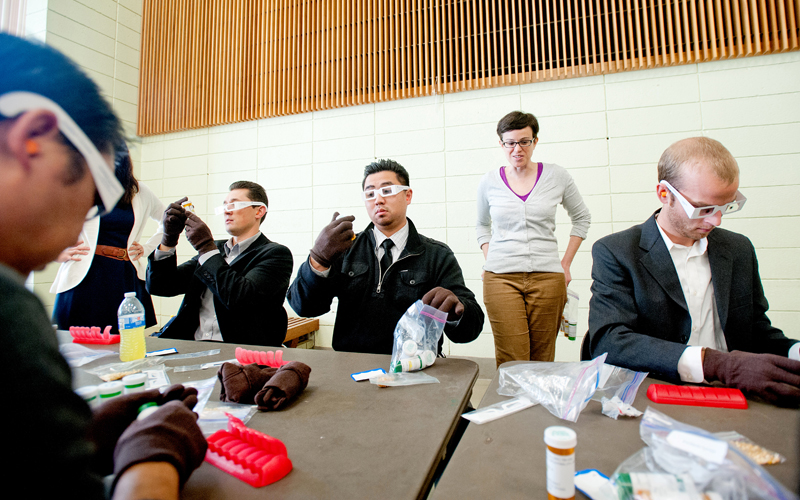 First-Hand Experience of Aging
The training then helps officers experience some of the challenges of being an older adult. Using a curriculum adapted in partnership with the Northern California Geriatric Education Center, officers wear glasses that blur their eyesight and restrict peripheral vision, put in earplugs, and don thick gloves. They try to button a shirt, tie a shoelace, and fill a weekly pill organizer with several different types of medications.
"From just looking at an older adult, you wouldn't necessarily see that they have any limitations," said Sergeant Angela Wilhelm, a recent training participant. During her eight years at the Tenderloin Police Station, she often responded to 911 calls involving seniors who were crime victims or were experiencing a medical emergency. "The hands-on activity makes you realize that they might face some unseen challenges. You have to take that extra second to slow down and realize when you ask, 'Can you show me your ID?' it could be very challenging for them to pull a little card out of their wallet."
Another exercise involves putting popcorn kernels inside participants' shoes – mimicking painful foot and leg conditions that can throw older adults off balance – and tying a short rope around their legs to restrict their stride. "When you say, 'Sir, come this way,' it's not as easy for them to just walk with you," said Wilhelm. "It gives you a good perspective of what an older adult faces every day."
"The officers really enjoyed taking what we learned in the first hour, and applying it," said Wilhelm. "That's what we do as police officers – hands-on learning. It was great to take a class that was catered to officers, who don't just want to sit and learn about something – they want to do it."
She also appreciated learning about resources for older adults in need. "Sometimes you get called out to someone's house, and it's clear that they're not taking care of themselves, or you see hoarding issues," Wilhelm said. "It's not criminal in nature, but I can't just allow this to continue, in good conscience. We're often that first step in getting someone the services they need."
Developing Community Partnerships
"Police officers aren't social workers, but they are already being asked to perform triage – does this older adult belong in jail or the hospital, or can I release them into the community or into the care of a family member or friend?" said Cyrus Ahalt, MPP, a senior clinical research coordinator with the Division of Geriatrics who helps facilitate the trainings. "We hope to provide police with knowledge that will allow them to think proactively about the best way to care for an older adult."
"Older adults actually spend relatively little of their time in the company of health professionals," said Williams. "To meet the needs of a rapidly aging population, it will require health care professionals to develop partnerships with other professionals and community members." With philanthropic support, Williams and her team have adapted this training for judges, attorneys and probation officers. If she can secure additional resources, Williams wants to bring the training to other cities. She would also like to expand the program to other first responders, such as firefighters, as well as bank tellers, who may witness signs of elder financial abuse. "If we could scale up this training program, I think it has the potential to create communities where older adults are able to live longer, and more safely and independently," said Williams.
Written by Elizabeth Chur